PHOTO CALENDARS, HOLIDAY CARDS, BIRTH ANNOUNCEMENTS, "WE'RE EXPECTING" CARDS, INVITATIONS, MAILING LABELS, GIFT TAGS, ETC. personalized just for you! View our many products, choose from various designs, text and font styles and let us create a perfect, one-of-a-kind item that reflects your style, choice and preferences!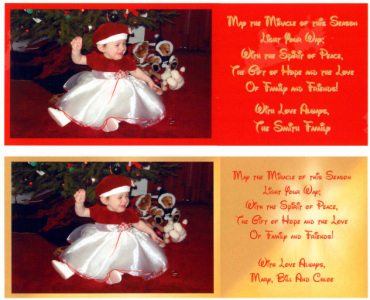 PHOTO CHRISTMAS CARDS - 1
You are in control... Pick your favorite background, font style and greeting. Mix and match from other greeting cards you see on our website and we will create your own VERY PERSONAL Christmas Card.